Circuits are for everyone
Circuits come alive
Visualize
Dynamic animations of voltages, currents and charges are displayed right on top of schematic. Detailed visualization gives insight into circuit operation like no equation does!
Simulate
When you build an arbitrary circuit, EveryCircuit shows you how it works, even if you have just invented a new design. This is made possible by a custom-built circuit simulation engine under the hood.
Interact
Adjust circuit parameters while simulation is running and see how that circuit responds — all in real time! The touchscreen interface makes it feel like you are building circuits with your own hands.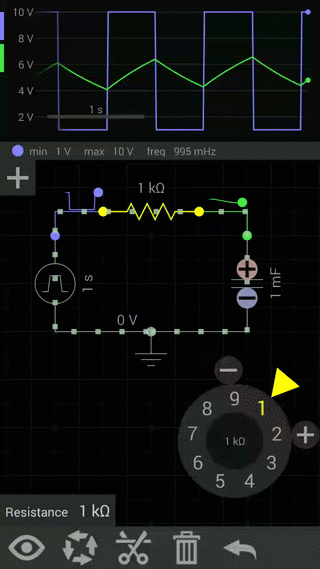 Try EveryCircuit for free
Embed interactive simulation
Play with live circuit embedded below. Adjust component values with analog knob and observe how circuit behavior changes. Interactive simulation can be embedded on your website with a single line of html.